Children's Dental Care
Comprehensive kids' dental care in the Brisbane CBD
The Wickham Terrace Dental team are always delighted to care for your children's dental health. We're big believers in helping your kids develop good oral hygiene habits now, so that they can look after their teeth and smile in the future.
Our gentle team are always careful to make your kids' dental appointment a positive experience, that's memorable for all the right reasons! Our goal is to help your children become relaxed and confident about their visits to the dentist.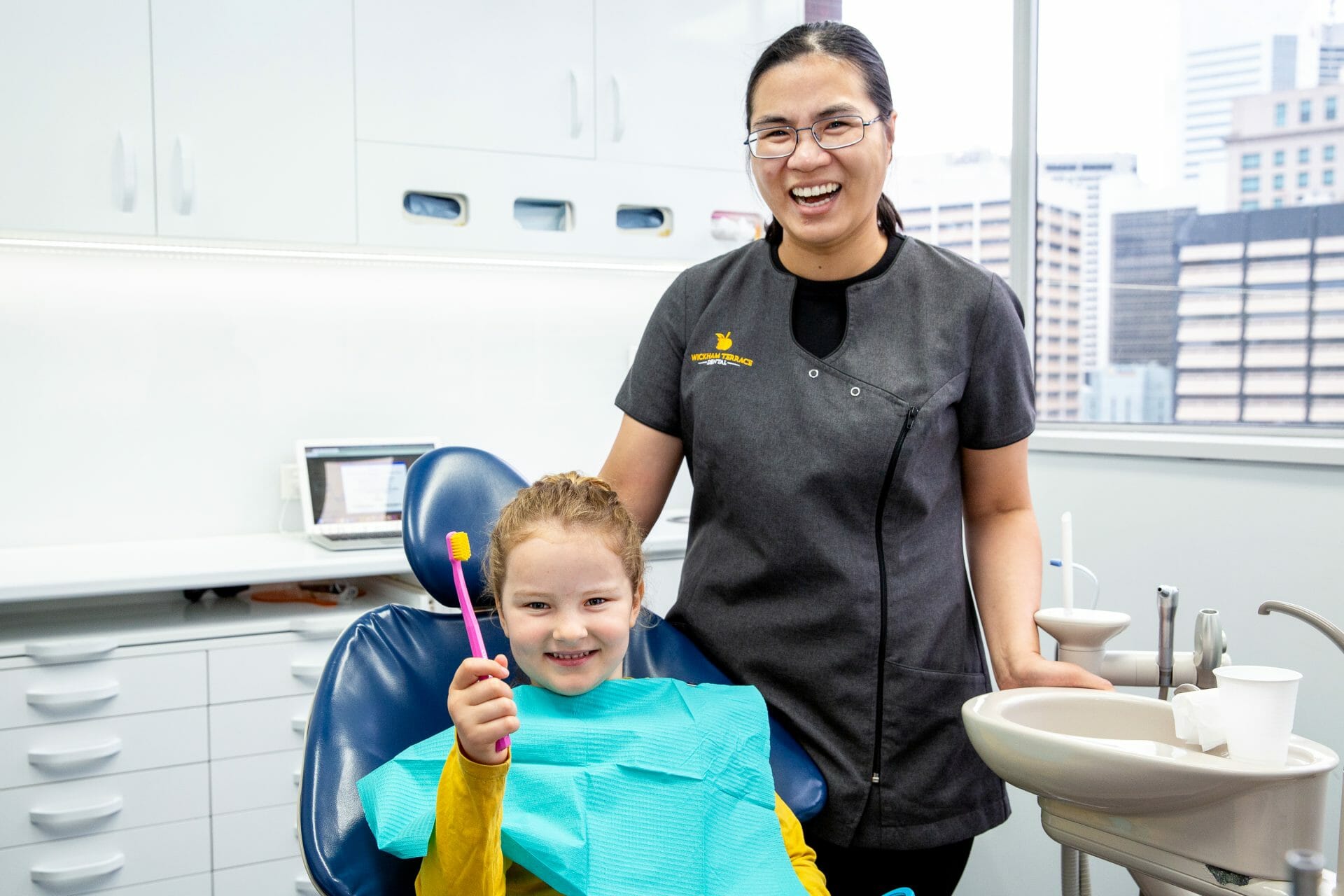 Your child's first visit to the dentist
The ideal time for your child's first dentist visit at Wickham Terrace Dental is around their first birthday, or when their teeth begin to erupt (whichever comes first).
At this short first visit in our Brisbane dental practice, our dentist will gently check your child's teeth for early signs of decay. The dentist will assess your child's face and jaws for any signs of misalignment. We'll also be happy to help with tips and advice for improving your kids' dental health, from brushing technique to pointers on choosing the best teeth-friendly snacks.
It's a good idea to then bring your child to see us twice a year for a check-up, so that we can keep an eye on their oral health. With regular dental check-ups for your child, we aim to detect any potential problems early. This way, we can treat them before they become more difficult – and more costly – to correct.
All our team are careful to take a patient, gentle approach, aiming to create a positive association for your child with visiting the dentist. We think your kids' dental treatment really can be comfortable, enjoyable and fun!  
Why caring for your child's baby teeth is so important
Even though, of course, your child's baby teeth (also known as primary teeth) will naturally fall out, it's still very important to make sure they're properly cared for in the meantime. That's because baby teeth play an important role in oral health and the development of your child's smile, jaw, and facial structure.
If baby teeth are lost too soon, your child's adult teeth may not have room to erupt correctly, and they may suffer gum deterioration and even bone loss. These are all great reasons to ensure your children's ongoing oral health with regular visits to Wickham Terrace Dental!
Bulk billed children's dentistry with the CDBS
Looking for a Brisbane CDBS dentist? Dental treatment for your kids could come with no out-of-pocket expense at Wickham Terrace Dental, with the government's Child Dental Benefits Schedule. You may qualify to receive up to $1,000 of CDBS benefits over two years towards the cost of your children's dental treatment.
The CDBS includes dental examinations, x-rays, cleaning, fissure sealing, fillings, root canal treatment or tooth extractions from our friendly Brisbane CBD dentists. Find out more about fee-free dental care for kids here.
To discover more about the general children's dental services we offer at Wickham Terrace Dental, or to schedule an appointment at our Brisbane CBD practice, please contact us.
Frequently Asked Questions
When should I arrange my child's first dental visit?
It's a great idea to bring your child to see us around the time of their first birthday, both to let them become used to our Brisbane dental practice and team, and so that we can check your child's oral development. Our friendly dentists and staff will do all they can to help your child relax and become confident about their dental care.
Should my kids use a manual or electric toothbrush?
Rather than which brush you choose, what's more important is that your kids use the correct brushing technique. Carefully monitor your child's tooth brushing, and help them make sure they clean every tooth. The Wickham Terrace Dental team are always happy to give you some pointers on the right way to brush your children's teeth.
When will my child's baby teeth fall out?
Your child's front 8 baby teeth will generally fall out around the ages of 6-8, as their first permanent molars come through beneath. Their remaining baby teeth will then be lost at around 10 to 12 years old and replaced with adult teeth.
How long should I help brush my child's teeth?
A good tooth brushing technique calls for fine motor coordination skills, which your kids may not develop until the age of 6 to 8. So we recommend you help keep your children's teeth clean with gentle, thorough brushing until at least this age, and monitor their efforts after this.
What should I do with a knocked-out baby tooth?
Unlike adult teeth, if a baby tooth is knocked out you should not try and put it back in, as this can damage your child's developing adult tooth in their gums. Contact Wickham Terrace Dental Brisbane on 3831 3031 immediately for advice, and to arrange an appointment if necessary.