Take Home Teeth Whitening
Brighten your smile at home for just $549
Unfortunately, any tooth whitening system won't keep your smile brighter forever. The food and drink we consume, some medicines, and the natural ageing process all mean that your whitened smile will gradually become less bright as time passes.
So if you'd like to whiten your teeth and then maintain your brighter smile into the future, Opalescence PF could be your ideal tooth whitening option.
Take home teeth whitening that's customised just for you
Like all the Opalescence range, PF whitens your teeth safely using oxygen molecules, which enter deeply into your teeth to break down stains inside, and give you a whiter smile.
But the big advantage of Opalescence PF is its custom-made whitening trays. At an appointment in our Brisbane dental practice, the Wickham Terrace Dental team will take detailed impressions of your teeth. We'll then use these impressions to custom-make your whitening trays so they precisely fit your mouth.
Once we've made your custom whitening trays, they're yours to keep. That means you can maintain your new whiter smile whenever you like, simply by buying extra whitening gel as you use it.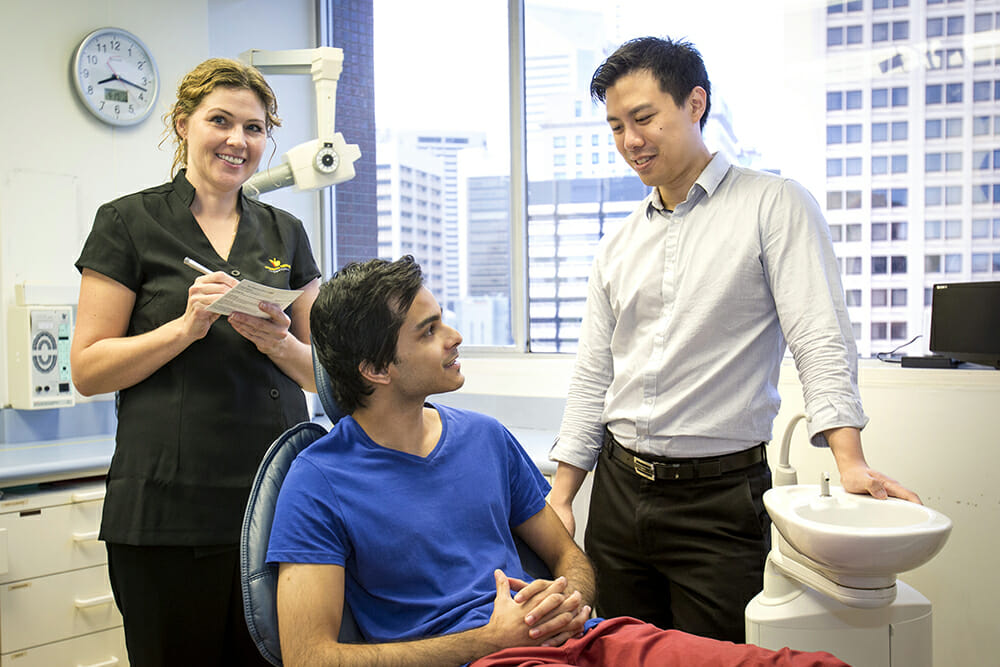 Whitening treatment to maintain your brighter smile for longer
Opalescence PF is a very effective way to not only whiten your smile, but to keep it that way for longer. This advanced take-home teeth whitening treatment is:
A safe way to brighten your teeth
Opalescence PF gets its name from two of its active ingredients, potassium nitrate and fluoride. Together, they help to avoid tooth sensitivity, reduce cavities, and strengthen your tooth enamel. And thanks to its sticky whitening gel and custom-made trays, Opalescence PF stays well away from your sensitive gums.
Highly effective in brightening your smile
With a choice of different strength take-home whitening gels, Opalescence PF offers you amazing teeth whitening results in as little as 30 minutes of wearing the trays. Whichever strength you choose, you should notice the difference to your smile within about two weeks.
Teeth whitening that's customised for you
Made from detailed impressions of your teeth by Wickham Terrace Dental, Opalescence PF's whitening trays comfortably fit your smile. And because you can purchase extra Opalescence whitening gel any time, you can enjoy showing off your beautiful bright smile for longer.
To see how you can get a brighter, whiter smile at home with Opalescence PF, contact Wickham Terrace Dental now or call 07 3831 3031 today.
Frequently Asked Questions
Is Opalescence PF teeth whitening
right for me?
With a range of whitening gel concentrations and a choice of flavours available, it's likely there's an Opalescence PF teeth whitening option that's just right for your needs. To find out more about your tooth whitening possibilities, contact the friendly Wickham Terrace Dental team for an appointment.
Does teeth whitening lighten
my crowns or fillings?
No, only your natural teeth will be whitened by Opalescence PF. So if you have a prominent filling or crown, you may wish to talk to your Wickham Terrace Dental dentist about your options for replacing your existing tooth restorations to match your new whiter smile.
How long does teeth whitening treatment last?
Maintaining your whiter smile will help your teeth whitening results to last longer. And the great thing about Opalescence PF is that you can use and re-use your custom made whitening trays as many times as you like. Simply pick up more Opalescence whitening gel from Wickham Terrace Dental, and you can maintain your new brighter smile at home.
Will tooth whitening treatment make my
teeth sensitive?
While your teeth may be slightly sensitive after your teeth whitening treatment, for most people this effect is usually temporary. To help further decrease the chances of sensitivity, Opalescence PF contains potassium nitrate to give you a more comfortable teeth whitening experience.
Does teeth whitening need a 'blue light' to work?
No – unlike other teeth whitening treatments, Opalescence PF doesn't need a laser or a blue light to whiten your teeth. Its active ingredient hydrogen peroxide is very effective in whitening teeth by itself.
How much does at-home teeth whitening cost?
The price of your Opalescence PF customised trays and whitening gel from our Brisbane dental practice is $549. That's a very affordable price for take home professional teeth whitening that can improve your smile's appearance and health, and then maintain it with additional whitening gel for as long as you like. Additional syringes of gel to maintain your pearly whites are just $20. These are usually suitable for up to 6 months' worth of whitening. Contact Wickham Terrace Dental online or call 3831 3031 to make your appointment.