Fixed on Four or More dental implants
A modern alternative to dentures
For many patients, titanium dental implants are the ideal way to replace missing teeth. But in some cases, your oral health situation may mean that conventional implants are unsuitable for you. Before Fixed on Four or More, that would have meant dentures were the only way to restore your smile.
Today, Dr Andrew Teakle and the Wickham Terrace Dental team can use Fixed on Four or More to restore up to 90% or more of your chewing ability and maximum load.
As their name suggests, Fixed on Four or More uses around four dental implants to restore your full arch of teeth with a fixed, stable dental bridge. This innovative dental implant technology can give you a more reliable tooth replacement option that won't slip or move around, or mean you have to avoid eating some of your favourite foods.
How Fixed on Four or More implants restore your smile
There's no doubt traditional dental implants are a very effective, long-lasting way to restore missing teeth.
Yet if you've been missing teeth for quite a while, it's likely that your jaw bone will have naturally deteriorated, to the point where traditional dental implants have nowhere to be securely placed.
Fixed on Four or More implants overcome this challenge with their innovative design. Unlike traditional dental implants which are all placed perpendicular (straight into the jaw bone), the Fixed on Four or More implants at the back of your jaw are inserted at a 30-45° angle.
This placement uses the 'hidden bone' that conventional implants can't, to securely hold your new implants. It means Fixed on Four or More is particularly suitable if you're missing bone from your jaw because of tooth loss – usually with no need for bone grafts or a sinus lift.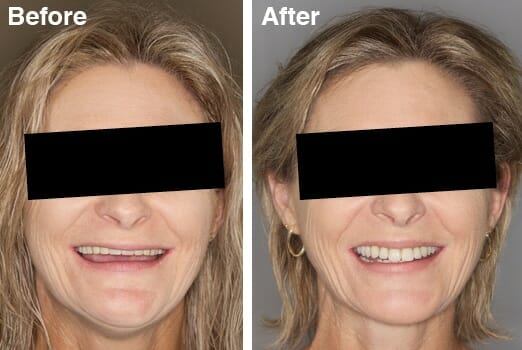 An innovative, reliable way to replace missing teeth
One of the most amazing features of Fixed on Four or More is that, after your initial appointment, in most cases we can restore your entire mouth of teeth in just one more visit to our Brisbane CBD practice.
During your initial comprehensive examination, we take diagnostic computer imaging to create a full 3D image of your jaw. This allows Dr Teakle to precisely plan and 'virtually' place your implants before surgery to ensure a great result.
Then at your next appointment, Dr Teakle places your implants in a short surgical procedure of around two hours. While you rest and recover from your surgery, we create your new custom fixed bridge in an advanced dental laboratory the same day.
Your brand new dental bridge is then attached to your dental implants, and you can enjoy your new teeth restorations immediately. You can head home ready to show off your complete, attractive and natural-looking smile, and eat and speak with confidence once again.
After you've lived with your provisional restoration for about 3 months, we invite you come back so that we can assess the way your mouth has changed. We'll make any small adjustments that are needed and place your permanent restoration. Your smile will be completely restored!
Frequently Asked Questions
How long does it take to recover from dental implant treatment?
Thanks to the unique way Fixed on Four or More provides terrific structural support using fewer implants, you will enjoy a greatly reduced recovery time. You'll be able to chew food later the same day – though we do recommend you stick to soft food for about the first three months to ensure your implants can properly integrate with your jawbone.
Am I a candidate for Fixed on Four or More?
If you have lost or are losing all your teeth, and you've been told that traditional implant options aren't suitable for your needs, Fixed on Four or More implants could be the answer. Because they use only four implants to securely anchor a dental bridge, you usually won't need bone grafting or sinus augmentation.
Will Fixed on Four or More allow me to eat normally?
Absolutely! Compared to what you may have experienced with dentures, which can be poorly fitting and make it difficult to chew, Fixed on Four or More implants let you bite, chew and eat completely normally. 
For the first three months after your Fixed on Four or More surgery, you will need to chew only soft food to allow your implants to properly bond with your jaw bone. The Wickham Terrace Dental team will be happy to advise you on the best diet to follow after your procedure.
What is the success rate of Fixed on Four or More implants?
When you adhere to an excellent at-home oral hygiene routine, and visit Wickham Terrace Dental regularly for a professional checkup and clean, your dental implants will have around a 95% to 98% success rate.