Dental Crowns Brisbane
Modern porcelain crowns from just $68 per week
Your smile is one of your most personal features, and it's often the first thing people notice about you. So if you've been embarrassed to smile because of a damaged, broken down or cracked tooth, we're proud to offer you a fast, modern and beautiful solution.
Wickham Terrace Dental can now restore your smile with the natural-looking, durable option of porcelain dental crowns. What's more, thanks to the modern CEREC technology in our Brisbane dental laboratory, we can create and fit your dental crown in just one appointment.
You can experience the joy of dental crowns, expertly crafted and fitted by our skilled Brisbane dental team. Call Wickham Terrace Dental on 07 3831 3031 or contact us online to book your assessment today.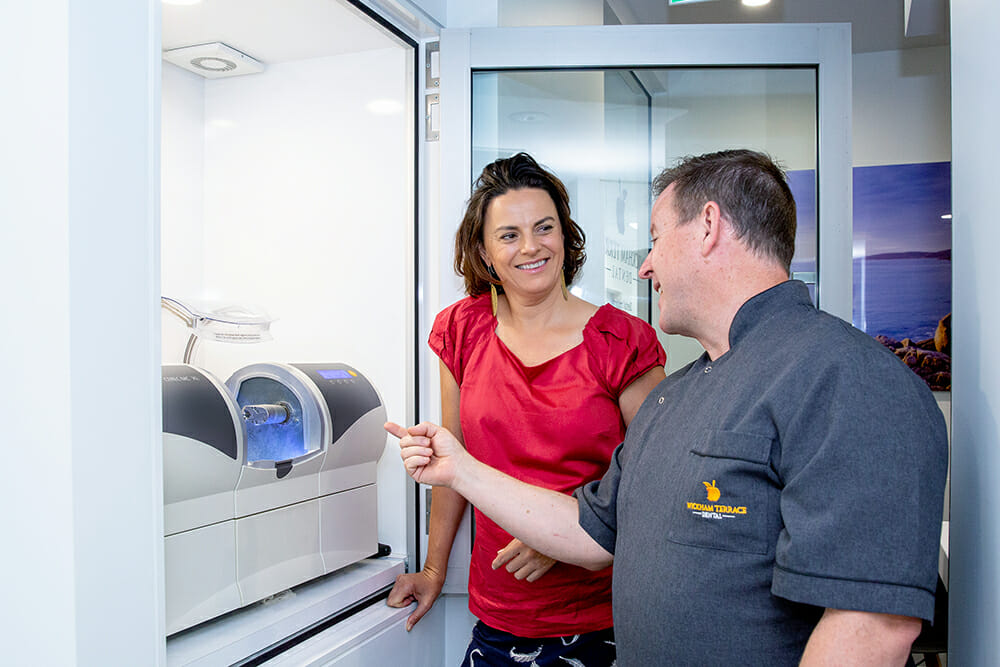 Thanks to our cutting-edge CEREC technology, having your tooth restored with a dental crown is now easier than ever. With CEREC we can custom-make your dental crown in our Wickham Terrace Dental laboratory in Brisbane's CBD, all in one visit.
To prepare your tooth for its new crown, we carefully remove the damaged portion, along with any signs of tooth decay.
Then, instead of using old-fashioned impression paste, we use CEREC to scan your prepared tooth and make a highly detailed 3D image. With this information, our computerised CAD/CAM machine then precisely mills your dental crown from a ceramic block to our exact specifications – in only about half an hour!
We then securely cement your new dental crown into place, completing your smile and allowing you to chew, speak and smile with confidence once more.
Frequently Asked Questions
What are porcelain dental crowns?
An ideal restoration for damaged, cracked, or badly decayed teeth, dental crowns completely cover or "cap" your tooth to restore its shape, improve its appearance, or correct alignment problems. Once custom crafted by our CEREC machine and securely bonded in place, dental crowns can give you a strong restoration that can last for years with proper maintenance.
How much do dental crowns cost?
We have invested in the brand new CEREC system, allowing us to provide you with affordable dental crowns much faster than before, and at a fraction of the previous cost. To find out the price of dental crowns for your individual situation, contact Wickham Terrace Dental Brisbane on 07 3831 3031 today.
How do dental crowns work?
Dental crowns can restore teeth that are weakened by decay, broken, or have a very large filling, rebuilding their natural shape and height and giving you back full function and a natural look. Porcelain dental crowns can also correct the colour of the restored tooth, to ensure your smile is attractive, healthy and natural looking once more.
How long do dental crowns last?
Just as with your natural teeth, the durability of your dental crowns will depend on how you look after them. Our high-quality CEREC dental crowns should last you around 10 to 15 years – so long as you maintain good oral hygiene, eat a balanced diet, avoid chewing on pens or fingernails, and of course, attend Wickham Terrace Dental in the Brisbane CBD every six months for a preventive dental check-up.