Modern Brisbane orthodontics treatment to improve your smile
Whether you'd like to change your smile a little or a lot, orthodontic treatment from Wickham Terrace Dental's comfortable Brisbane CBD practice can help improve both the health and appearance of your smile.
With orthodontics our expert team can straighten and align your teeth into their ideal position, solving dental or facial irregularities and improving the way your teeth, jaw and entire mouth work together.
Orthodontics can help you speak more clearly and eat more easily, improving your overall quality of life.
Modern orthodontic appliances are a world away from the old-fashioned, heavy metal brackets and wires you might be familiar with. You may also be able to benefit from nearly invisible braces such as Invisalign or ClearCorrect.
To find out whether orthodontic treatment could help improve your smile, contact the friendly Wickham Terrace Dental Brisbane orthodontics team today on 07 3831 3031.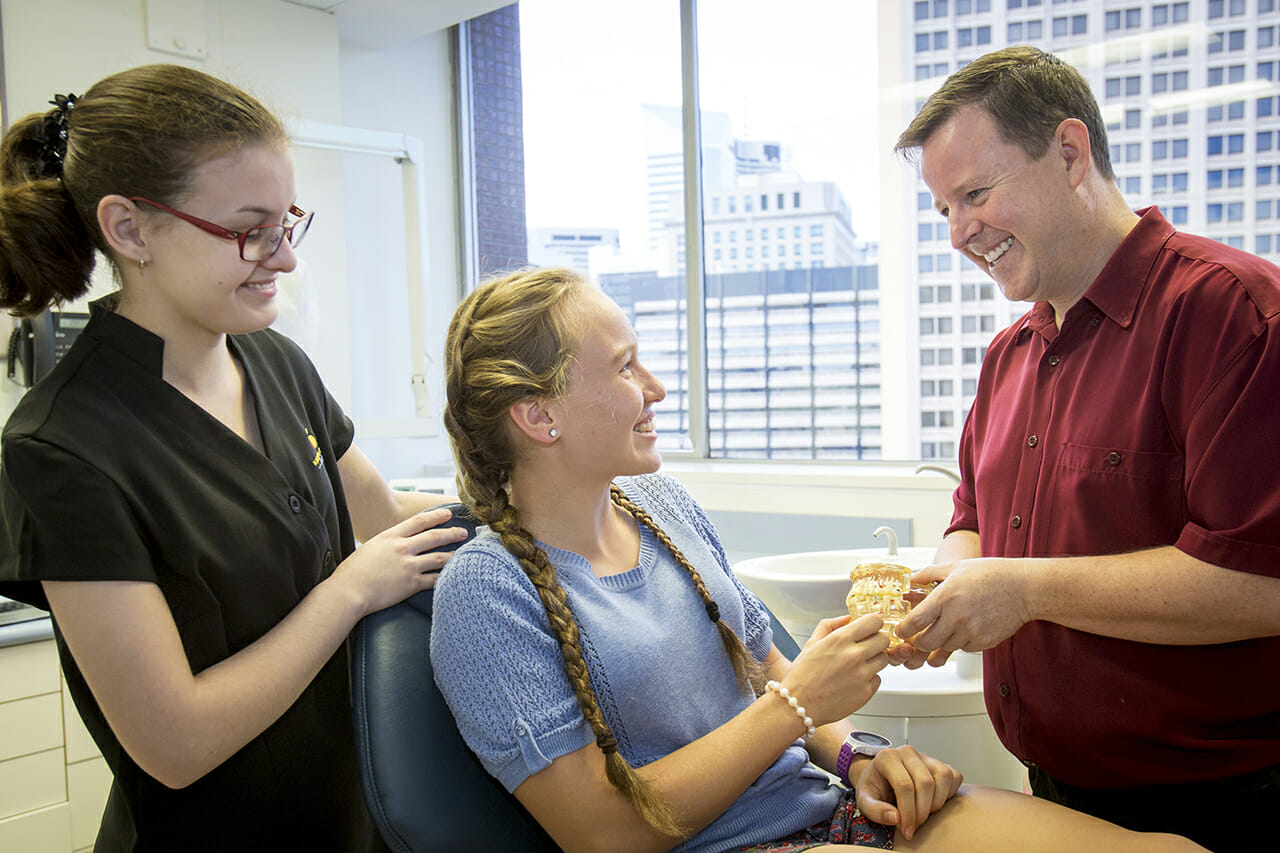 Frequently Asked Questions
Is orthodontics an option for me?
The answer is probably yes! You're never too old to experience a straighter smile and better aligned teeth thanks to orthodontic treatment. In fact most of our patients are adults seeking the benefits of modern orthodontics with discreet options such as Invisalign, which lets you straighten your teeth with a comfortable, unobtrusive and effective method.
When is the best time to start orthodontic treatment?
While you can begin orthodontic treatment at any age, it's a great idea to bring your child in for an initial assessment at around 7 years old. This early attention will help us address any potential issues before they become more severe. And of course, bringing your child to visit us every six months for a preventive dental check-up allows us to monitor the growth and movement of their teeth and jaws, and recommend any teeth straightening treatment as needed.
How long will my orthodontic treatment take?
Your orthodontic treatment time will vary depending on your personal dental situation, along with the specific type of treatment you opt for. Our Brisbane orthodontics team will be happy to provide you with an estimate of the time required once we make a personal recommendation for your needs.
How much does orthodontic treatment cost?
The cost of your orthodontics will depend on your needs and which treatment option you choose. We will be happy to give you an indication of your braces cost before we begin. To find out more about orthodontic treatment prices, contact Wickham Terrace Dental today for a consultation in our Brisbane CBD dental practice.