New dental patient special
Book your first appointment at our Brisbane CBD practice for just $269
One of our major goals is delivering high quality, gentle preventive dentistry. We aim to develop a thorough understanding of your whole mouth, so that we can take early action to prevent any oral health issues from becoming much more serious.
That's why it's very important to visit the dentist regularly, so that we can keep an eye on your oral health, its effect on your overall health, and the appearance of your smile.
So to help you take the first step and book an appointment with us, we offer a comprehensive New Patient Special that includes everything you need.
For $269, your new patient special includes:
Comprehensive dental examination
Complete oral health check
Full diagnostic photos and x-rays
10 point oral cancer check
Full professional clean and polish
Fluoride treatment
Even if you think you have no current dental health issues, it's still very important to be checked by a dental professional. And if we do find that you have no problems, you'll enjoy the fantastic feeling of knowing that your whole mouth is in great shape.
Your first appointment with Wickham Terrace Dental
As our new patient, we'll begin by getting the full picture of your oral situation. We'll take as many detailed photographs and even x-rays as we need – at no extra cost to you. It's all part of your package.
Your dentist will conduct a thorough examination of your mouth. We'll perform a full oral cancer check, assess your overall oral health, and look for signs of any problems.
If we discover that there is work to be done, our team will provide you with a detailed treatment plan that takes you through the recommended procedures, an indicative timeframe, and an estimated cost for each treatment.
Protecting your oral hygiene
As part of your first visit with us, our qualified oral health therapist will carry out a full professional scale and clean.
She can provide oral health instruction such as pointers on how to brush and floss your teeth correctly, and even pass on advice about the dietary choices you can make to ensure a healthy mouth and teeth.
Lastly, your therapist will apply a fluoride treatment that can help prevent tooth decay and even work to repair the very early stages of the disease.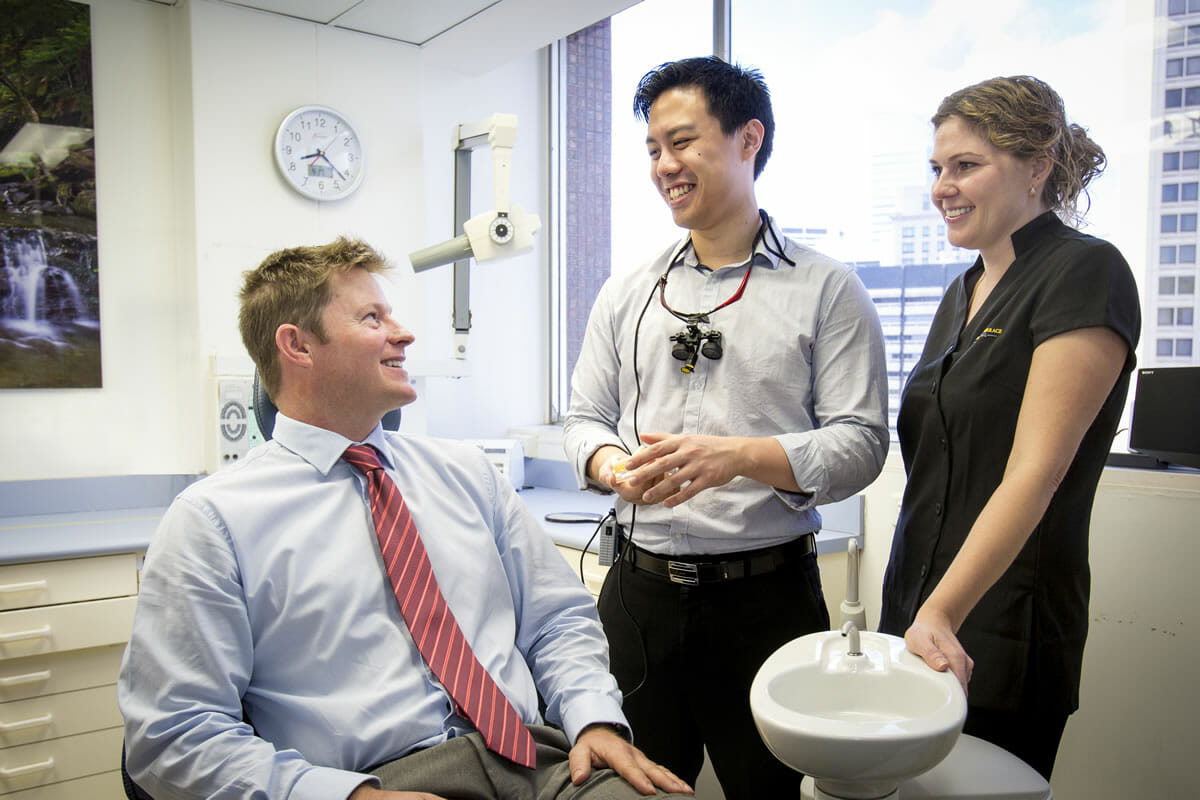 Nervous about your dental appointment? There's no need to be!
If it's been a while since your last dental visit, it's understandable if you feel anxious about seeing a dentist once more. But at Wickham Terrace Dental, there's no need to be.
We'll go the extra mile to ensure you have a comfortable appointment with us. For example, if you're concerned about the minimal discomfort of a professional clean, for a small extra charge we can apply an anaesthetic gel before your treatment.
And if you're worried about what our dentist will say – don't be. We completely understand how 'real life gets in the way' of making a dental appointment. Our team will be non-judgemental about whatever we find with your teeth and mouth, taking a 'no guilt' approach to diagnosing, treating, and maintaining your dental health.
Book your new patient appointment with us today
Whether it's been a while since your last dental appointment, or you're simply looking for a quality dentist in the Brisbane CBD, we would love to see you.
To book your first appointment with us, use the form above to the right or call our friendly team on 3831 3031 today. Please mention this special offer to claim your new patient discount.