Helping your teeth look perfect for your special day
There's nothing like showing off a beautiful smile to the world to cap off your perfect wedding day! All eyes will be on you… so just imagine the confidence boost you could gain from having a healthy, straight, attractive smile to display.
What dental issues can be addressed as part of a wedding smile makeover?
The answer is, pretty much anything! Our expert dentists and their committed team can solve any issue you feel you have. With sufficient lead time and preparation, our wedding smile makeovers can help with:
Noticeable space or gaps between your teeth
Stained, discoloured or yellowish teeth
Crowded or uneven teeth
Old crowns and metal fillings
Teeth misshapen or worn down
Broken, cracked or chipped teeth
Crooked teeth
Missing teeth
Large, old fillings and cavities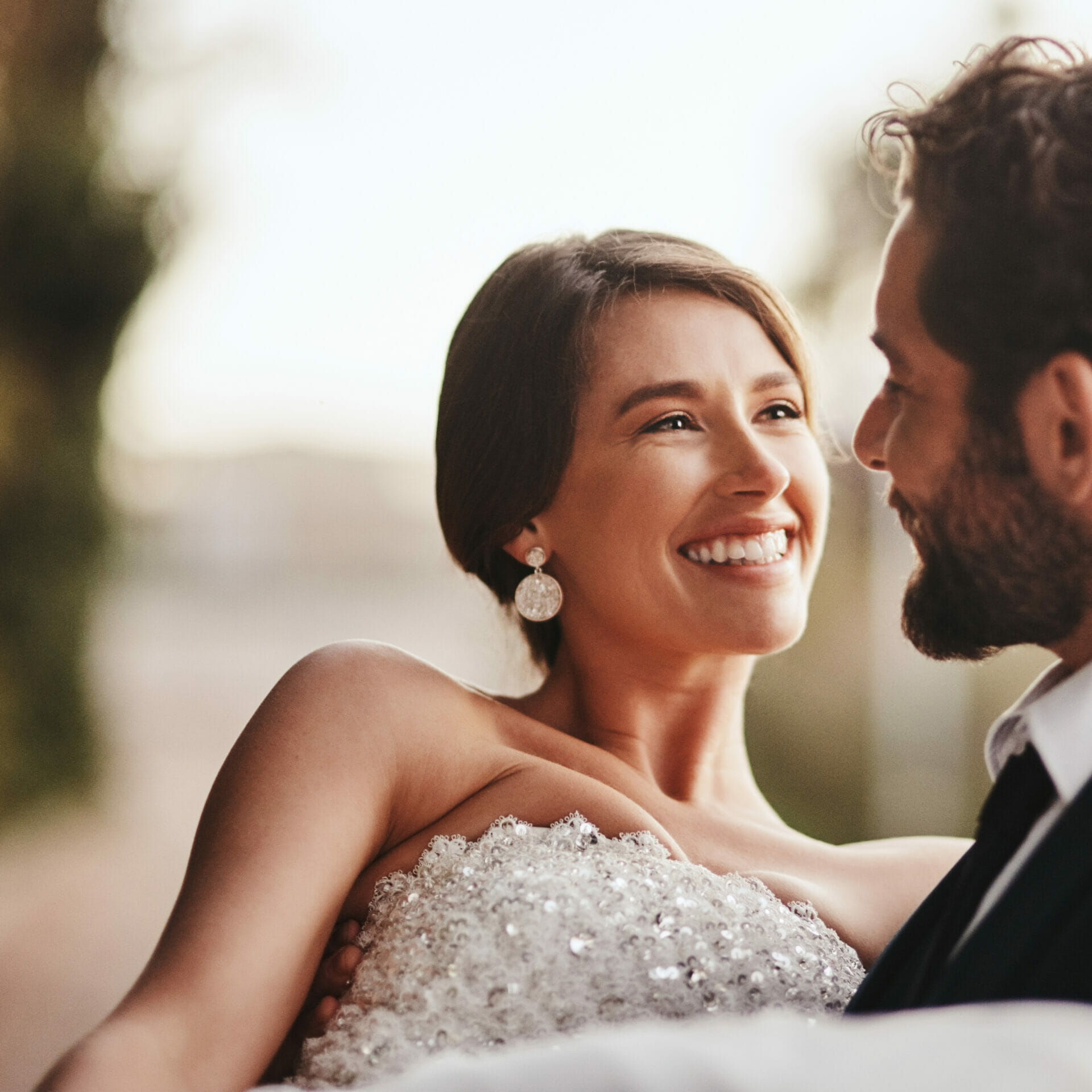 The most popular dental treatments for brides, grooms, mothers-in-law – and anyone at a wedding! 
Teeth whitening 
If your teeth are in good shape and you'd simply like a whiter, brighter smile, teeth whitening could be perfect for you. It can be either a standalone treatment, or used as part of a bigger process in conjunction with other treatments to give you the smile you want. 
You can choose from either in-chair or at-home teeth whitening, depending on your budget and the timeframe you have in mind for lightening your smile. 
At Wickham Terrace Dental we offer Opalescence PF at-home teeth whitening. The system whitens your teeth safely using oxygen molecules. Importantly, Opalescence PF uses custom-made whitening trays that precisely fit your mouth for a better whitening result. 
If you'd prefer teeth whitening treatment from the comfort of our Brisbane dental practice, Opalescence Boost is ideal. Perfect if you're looking for whiter teeth fast, it gives you a beautifully white smile in about 90 minutes. If you have a special event such as a wedding coming up, Opalescence Boost could help ensure your smile is whiter and brighter in time for your big day.
Invisalign
If you have a little more time available before your wedding day, you may wish to consider straightening your teeth with Invisalign.
Unlike traditional heavy metal braces, Invisalign uses a series of custom-made, amazingly transparent aligners, which straighten your teeth by gradually applying gentle pressure. And because Invisalign really is practically invisible, you can have your teeth straightened before your big day without anyone knowing you're having treatment.
Porcelain dental veneers 
Porcelain dental veneers can help improve the look of crooked, 'gappy' or uneven teeth, giving you a beautiful smile you'll love showing off.
Dental veneers can be simply described as porcelain 'shells', which are incredibly thin yet extremely strong. When bonded to the front of your teeth, dental veneers can restore the colour, size, and shape of your teeth, giving you a beautiful and natural looking smile. 
Dental crowns
While veneers use your existing tooth for support, dental crowns are a more substantial restoration that support themselves. They wrap around and protect your tooth, and increase its overall structural integrity.
Crowns are ideal if your teeth are heavily filled or damaged, or when more substantial change is required to get the look you're after. And thanks to Wickham Terrace Dental's in-house CEREC technology we can create and fit your dental crown in just one appointment.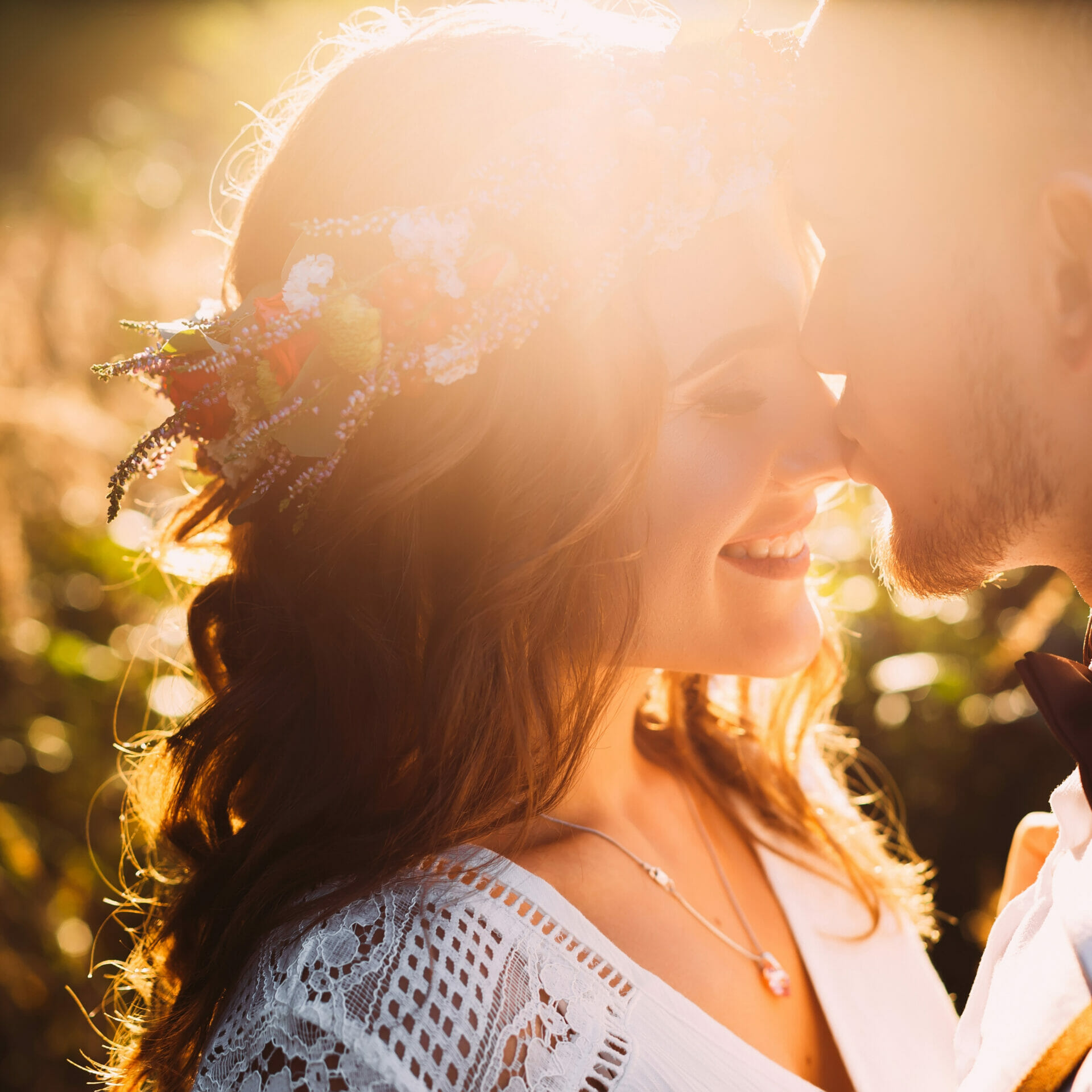 Dental implants 
Dental implants are a highly effective option for replacing missing teeth and giving you back a complete, healthy smile once more. Simply described as an extremely strong titanium post, dental implants are threaded into your jawbone in a minimally invasive surgical procedure. Once this foundation has integrated with your jawbone over two to six months, it's gently uncovered and connected to a small metal post which will secure and support an artificial tooth.
Because of the way they securely bond with your natural bone, dental implants are the sturdiest replacement modern dentistry can provide for your missing tooth root. They replicate the look and function of your natural tooth, to give you a long-lasting restoration.
Tooth coloured fillings 
White fillings are a healthier, safer, and much more attractive alternative to old-fashioned dark amalgam fillings. They can be ideal for making small changes to just one or two of your teeth, to correct their shape, width, length, or minor chips. 
Importantly, bonding is a very conservative procedure, where we add material to the tooth instead of removing any of the tooth structure.
Anti-wrinkle treatment
If you'd like to minimise the appearance of wrinkles in your wedding day photos, your dentist is the ideal person to help! Unlike some cosmetic injectables providers, our dentists have had extensive education in facial physiology, including its nerves, muscles, and vascular system. 
And our cosmetic anti-wrinkle injections and dermal fillers are the ideal complement if you're having other cosmetic dentistry treatments, such as teeth whitening, dental veneers, or Invisalign.
Three steps to your ideal wedding smile makeover
The process of helping you achieve the smile you want is completely straightforward:
1) Attend a discovery session
We take the time to thoroughly discuss your dental concerns, goals and desires with you
Our team will take photos of your smile and evaluate the best course of action for the results you're looking for
We'll show you some examples and outcomes of previous clients in similar situations
Our dentists will find the treatment options best suited for you, and clearly discuss everything – including pricing
2) We design, preview, and help you trial your new smile
You choose your ideal treatment option
You'll come in for a photo and video shooting session to help us collect information for your new smile 
We design your ideal smile based on your aspirations, facial shape and colour, and personal characteristics
We'll use our Digital Smile Design technology to give you a realistic representation of what we can achieve in your smile makeover.
3) We transform your wedding day smile
We'll start and complete your treatment in one or two visits (this may vary from case to case)
We also offer minimal discomfort options for your treatment
You get the smile you want and deserve for your wedding day!
Talk to us about creating your ideal wedding day smile
If you'd like to find out more about having cosmetic dentistry before your wedding day, we invite you to begin the process with a comprehensive personal consultation in our Brisbane practice.
You'll get all the information you need to decide on the ideal treatment (or treatments) for improving your smile. We can also use our Digital Smile Design technology to give you a realistic representation of what we can achieve in your smile makeover.
And if both you and your future spouse would like your smiles to look their best, we offer Couples Packages that include a wedding smile makeover for you both, complete with personalised timelines.
To find out more about your teeth and the perfect cosmetic treatments for your wedding day, get in touch with our Brisbane dentists on (07) 3831 3031 or contact us online now.