General Dental Care
Enrich your oral and overall health with outstanding general dental care from our Brisbane city dentists.
If you're looking for a dentist that can provide the general dental care you need in a relaxing, modern environment, we welcome you to our Brisbane CBD dental practice.
Our friendly team can provide you and your family with the full range of modern, high quality general dentistry, from preventive dental care to treatment for tooth decay and gum disease. And of course, we're always happy to give you advice on what you can do to maintain your oral health at home.
Because everyone's dental situation is unique, we don't simply recommend the same general dentistry procedures for every patient. We start with a comprehensive assessment of your situation, before recommending the ideal general dentistry for you, such as:
Though we're conveniently located on Wickham Terrace in the heart of Brisbane's medical precinct, we are a general dental practice, not a specialist. You don't need a referral to visit us for a general dental check up! Simply call us on 07 3831 3031 or book your appointment online today.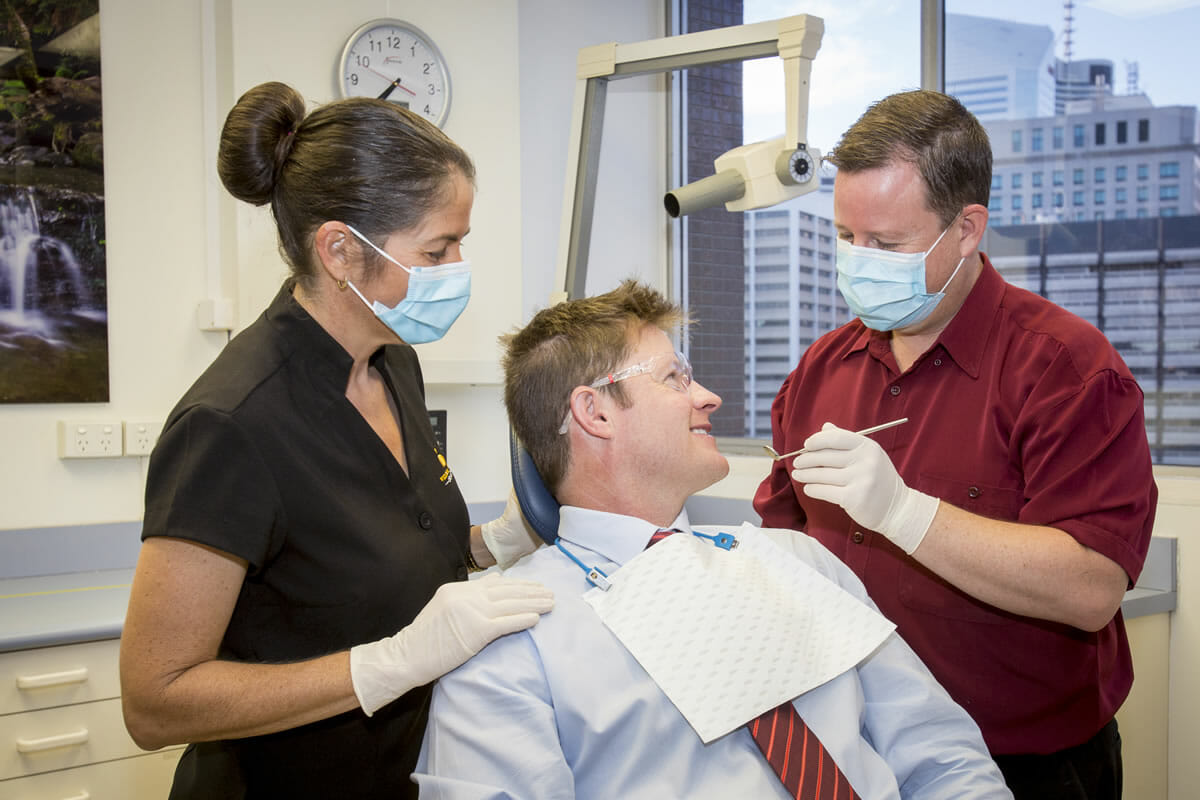 Frequently Asked Questions
What does 'general dental care' mean?
General dentistry includes a wide range of dental treatments, all designed to improve and maintain good oral health for you and your family. One of the most basic – and most important – examples of general dental care is the regular appointments you have with our Wickham Terrace Dental team in the Brisbane CBD.
How often should I visit Wickham Terrace Dental?
For most of our patients we recommend visiting our Brisbane general dental practice every six months. This schedule will help us diagnose any problems early, and put in place a treatment plan before they become more severe. If you have pre-existing conditions such as gum disease, or teeth in poor condition, we may need to see you more often than twice a year.
Why are regular general dental check ups important?
Some dental problems can take hold without causing you any pain. So by visiting our friendly team for a general dental check up twice a year, you'll give us the best chance of finding any problems early. And that means we can address them before they become more serious and expensive to treat.
What are some signs of unhealthy teeth?
Indicators that you may have a problem with your teeth include visible chips or cracks, discoloured or sensitive gums that bleed when you brush, bad breath, and pain in your teeth or jaw. If you experience any of these symptoms of a problem tooth, it's a good time to make an appointment with us so we can determine the cause of your issue.
What could be causing my painful tooth?
Tooth pain can have a number of causes, including dental problems such as gum disease, tooth decay or cavities, a cracked or damaged tooth, or a problem with the tooth root. The one thing you should never do is ignore a painful tooth. Book an appointment with Wickham Terrace Dental so that our team can assess the problem and treat the cause of your tooth pain.
Are you accepting new patients?
Yes! We're always happy to welcome new patients to our Brisbane general dental practice. So we're offering a New Patient Special for just $259, complete with comprehensive dental examination, two dental x-rays, scale and polish, and a complimentary fluoride treatment. It's your ideal way to get to know the Wickham Terrace Dental team and our practice.

Call us today on 3831 3031 or fill out the contact form and we'll get back to you as soon as possible.
To discover more about the general dental care we provide, or to arrange an appointment, please contact us.