Sleep dentistry for nervous dental patients
Overcome your treatment anxiety with our modern sedation
At Wickham Terrace Dental we understand that there are many reasons why you might be nervous about visiting the dentist. Maybe you've had a bad experience at (another!) dentist in the past; or you haven't been to see a dentist for some years and you're worried about the state of your oral health. Perhaps you need extensive treatment that could be completed more efficiently in one longer appointment.
Whatever the case is for you, if you're anxious about your dental treatment we can now offer you sleep dentistry (also called sedation dentistry, conscious sedation or twilight sedation) right here in the comfort of our Brisbane CBD practice.
Sleep dentistry uses a combination of sedative and pain relieving drugs that are administered to you intravenously. You'll experience a dream-like state of deep, calming relaxation right throughout your treatment at Wickham Terrace Dental.
Dental sedation is an affordable and very safe way for you to get the treatment your oral health requires – without the anxiety or nerves you may have suffered from in the past.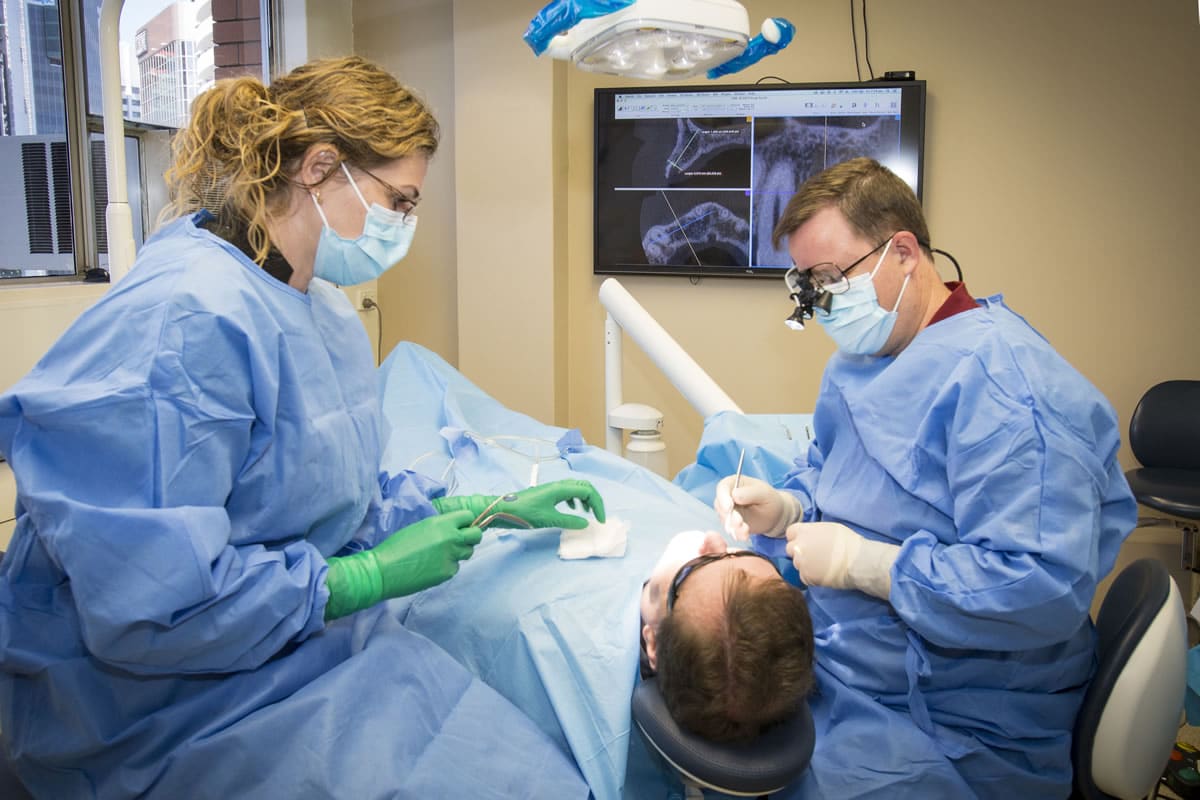 Dental sedation and your treatment at Wickham Terrace Dental Brisbane
Our whole sleep dentistry process is focused on your wellbeing at all times. After your initial consultation with us, we refer you for an appointment with our associated GP, located right here in the same building as our dental practice. The doctor will carry out a comprehensive health check to ensure you're a good candidate for sleep dentistry.
On the day of your appointment with us, we ask you to arrive early so that you can visit the same GP to have a cannula inserted to allow the drugs to be administered. The doctor will then accompany you back up to Wickham Terrace Dental, and monitor your health throughout your treatment.
Amazingly, once your appointment is complete and you come out from sedation, you will have no memory of the noises, smells, or experience of your dental procedure. You'll feel like no time has passed at all – yet the Wickham Terrace Dental team will have carried out all the dental treatment you need.
You'll feel like you have had a deep, fulfilling sleep, with no pain or discomfort, and definitely no anxiety. It's an incredibly effective way to give your oral health the attention it deserves.
To talk about how the caring team at Wickham Terrace Dental can use sedation dentistry to help you overcome your nervousness, call us on 3831 3031 or fill out the contact form today.
Frequently Asked Questions
Is sleep dentistry a safe procedure?
Thanks to the structured nature of our sleep dentistry program, it's a very safe procedure. You will have an initial health assessment with our associated GP, who will then administer the sedation and monitor your health throughout the procedure.
Can I drive myself home after having sleep dentistry?
No; for your safety you will need a responsible adult to take you home, or organise transport such as a taxi.
Can dental sedation overcome a hypersensitive gag reflex?
Yes, this is one of the many issues which may be addressed with sedation dentistry. If you've previously found it difficult to have the regular dental treatment you need, sleep dentistry could help you.
Is dental sedation different to a general anaesthetic?
Unlike surgical procedures that are performed under general anaesthetic, during sleep dentistry you aren't completely unconscious. Instead you'll be in an induced, very relaxed, sleep-like state. When you 'wake up' you will not remember anything about the entire procedure, will feel no pain during the procedure and will feel like no time has passed.
How much does sleep dentistry cost?
The total cost of your dental sedation will depend on the complexity of your treatment and the duration of your appointment.
We've worked to make sleep dentistry an affordable option for our nervous or anxious patients, and the cost of having our associate GP on hand for your treatment is $350 per hour. You may be able to claim a rebate through your health insurance – check with your provider for details.
Do I have to go to hospital to have sleep dentistry?
No – unlike with general anaesthetic, when you're having sedation dentistry you don't need to be booked into a hospital. You can have your dental treatment as normal in the comfort of our Brisbane CBD dental practice.