Dental Implants Brisbane
Modern, reliable titanium dental implants from just $78 per week
If you're living with missing teeth, here's some news which is sure to make you smile again! At Wickham Terrace Dental, we're proud to offer you dental implants as a modern, reliable treatment to replace your missing teeth, and restore your healthy, attractive smile once more.
In our modern Brisbane dental practice, our qualified team can place titanium dental implants as an ideal replacement for your missing tooth root. They're the closest restoration we have to your natural teeth.
Our caring team understand the impact missing teeth can have on your life. Loss of self-confidence, hesitance to smile, and difficulty chewing can all be a thing of the past, thanks to affordable dental implants from our Brisbane CBD practice!
Whether you're missing one, a few, or all of your teeth, or you'd simply prefer a more modern alternative to loose dentures, dental implants could be the ideal treatment for you.
How we replace missing teeth with dental implants in Brisbane
A dental implant is an extremely strong titanium post, which is threaded into your jawbone in a minimally invasive surgical procedure which is as straightforward as a tooth extraction. We then leave this biocompatible material buried in your bone, leaving it undisturbed under the gum tissue for between two and six months.
Then, once your bone has grown around and bonded to your new dental implant (called 'osseointegration'), we gently uncover it and connect it to a small metal post which will secure and support an artificial tooth, such as a custom-made crown from our in-house CEREC laboratory at Wickham Terrace Dental in the Brisbane CBD.
Thanks to the way they securely bond with your natural bone, dental implants are the sturdiest replacement modern dentistry can provide for your missing tooth root. You'll be amazed by the way they replicate your natural tooth, to give you a long-lasting answer to tooth loss.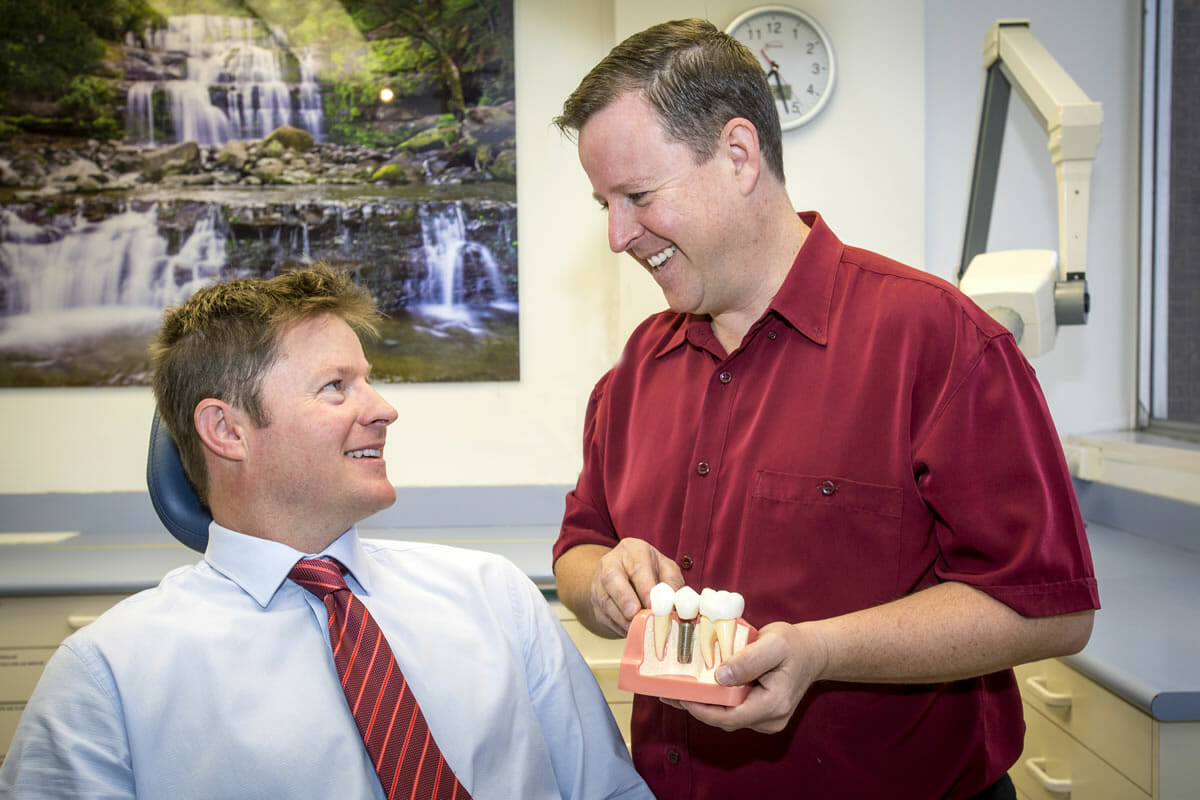 Your Brisbane dental implants treatment
Take advantage of a great value way to restore your smile, with our incredible special on dental implants! Our caring team can place an affordable titanium dental implant with a full porcelain crown to restore your missing tooth.
The first step towards enjoying a complete fully functional smile once more is to contact us for a personalised consultation. We will be happy to talk you through your dental implant pricing and your individual procedure, including your treatment timeline, stages and overall cost.
To find out more about titanium dental implants, or to arrange an appointment at our Brisbane CBD dental practice, contact the friendly Wickham Terrace Dental team today.
Frequently Asked Questions
Are dental implants the right option for me?
Even though dental implants are a hugely popular restorative treatment, they may not be suitable for some people. You will need to have enough space in your jaw, and there must be sufficient bone to support your new implant. If you don't have enough bone, we may be able to grow or graft bone from elsewhere in your mouth, or places like your hip. It is also essential that your mouth is decay- and gum disease-free to ensure the greatest chance of successful integration.
What is the success rate for dental implants?
Dental implants have a very high success rate of over 90%. Rarely, an implant may fail if it hasn't properly integrated with the jaw bone. The Wickham Terrace Dental team are highly experienced in placing dental implants, ensuring that your treatment has the best chance of success.
How long will my dental implants last?
Clinical trials have shown that dental implants usually have a long life once fully integrated with your jaw bone. However, individual factors do affect their longevity, such as your oral hygiene, overall health, diet and whether you're a smoker.
How long does dental implant treatment take?
Your treatment time will depend on how much bone you have, the type of bone, and where your missing tooth is located in your mouth. On average, treatment time for dental implants is around four months. This may be longer if advanced procedures like bone grafting or sinus lifting is required.
What implants do you use?
While we have handled most of the major implant systems commonly used in Australia, we usually place quality MIS implants. These latest-generation implants use current principles of design and fabrication to achieve extraordinarily high success rates. They are accompanied by a huge range of supporting material and accessories to enable treatment of a very wide variety of clinical scenarios.
How much do dental implants cost?
Experiencing the joy of a complete and beautiful smile with dental implants would normally cost you around $7,500 per tooth. But at Wickham Terrace Dental, we're proud to bring our Brisbane patients the modern technology of affordable titanium dental implants, including a full porcelain crown, for much less. That's great value for titanium dental implants professionally placed in Brisbane.