Full Mouth Reconstruction
Restoring your smile after significant damage or trauma
Full mouth reconstruction, also known as full mouth restoration or rehabilitation, is the process of rebuilding, restoring or replacing most or all of the teeth in your upper and lower jaws.
It may be an option to consider if you've experienced facial trauma, some chronic diseases (or even the medication that treats them), recreational substance abuse, or simply some lifestyle choices such as consuming too much sugar or junk food, or poor oral hygiene.
There's no doubt that a full mouth reconstruction is a very expensive, very time consuming treatment process. That's why we normally reserve it as a last step after we've tried more conservative and affordable treatments to address your situation.
Yet if your oral health has deteriorated and is causing ongoing health issues, a full mouth rehabilitation could be the key to restoring your teeth and your wellbeing.
Your treatment plan will be fully customised to address your specific oral health problems. We may recommend many different general and restorative dental treatments, such as:
Porcelain veneers (on your front teeth)
Composite resin veneers
Removable dentures
A combination of some or all these treatments
Depending on the dental treatments involved, your full mouth reconstruction could take anywhere from a few weeks to a couple of years to complete.
How we plan and prepare your mouth for a full rehabilitation
Because this treatment program is so extensive (and expensive), we don't get started until we've made sure your mouth is healthy and free from gum disease. After all, we want to give your restored smile the best chance of success for years, if not decades, into the future!
At our initial consultation, we'll investigate the state of your oral health, and talk to you about your oral hygiene routine and whether your diet supports good oral health.
Once we have established a healthy foundation, we can begin to plan your custom full mouth reconstruction. That's where our in-house 3D x-ray machine and Smile Design software really shine.
By planning your treatment 'virtually', we can easily communicate with an external laboratory to create a 3D model of your entire mouth. It makes planning your treatment much more efficient and straightforward.
We can even make provisional CEREC crowns that you can wear for a time to make sure you're comfortable and happy with the look of the teeth. We'll check your speech (which is affected by the length of your teeth), let you bite and chew food, and ensure your top and bottom teeth are working together properly. We'll then make any slight corrections that are needed to get things exactly right.
When we know you're completely happy and comfortable, we'll move on to create your bespoke, hand-made crowns that offer you the very best aesthetics and function.
This detailed, painstaking process is all about ensuring the absolute best result for your personal needs.
How a full mouth rehabilitation can restore your appearance
If your teeth are in very poor condition, the effects can be severe – not just on your oral health, but on your overall health and your appearance too.
If you have very broken down, progressively "patched up" dentition, it's quite likely that your face will have developed a sunken-in appearance over time. In fact, without healthy, normal teeth beneath, your whole facial profile can suffer – making you look much older than you are.
Using various treatments as part of a full mouth reconstruction, we can re-establish the natural vertical dimension of your face, and bring volume back to your face so that it appears to be naturally in the right proportion.
Understanding how your lips, gums, and teeth work together to present a beautiful smile is another crucial part of a full mouth rehabilitation. We can support your lips where needed, and even change the width of your smile to give you the very best result.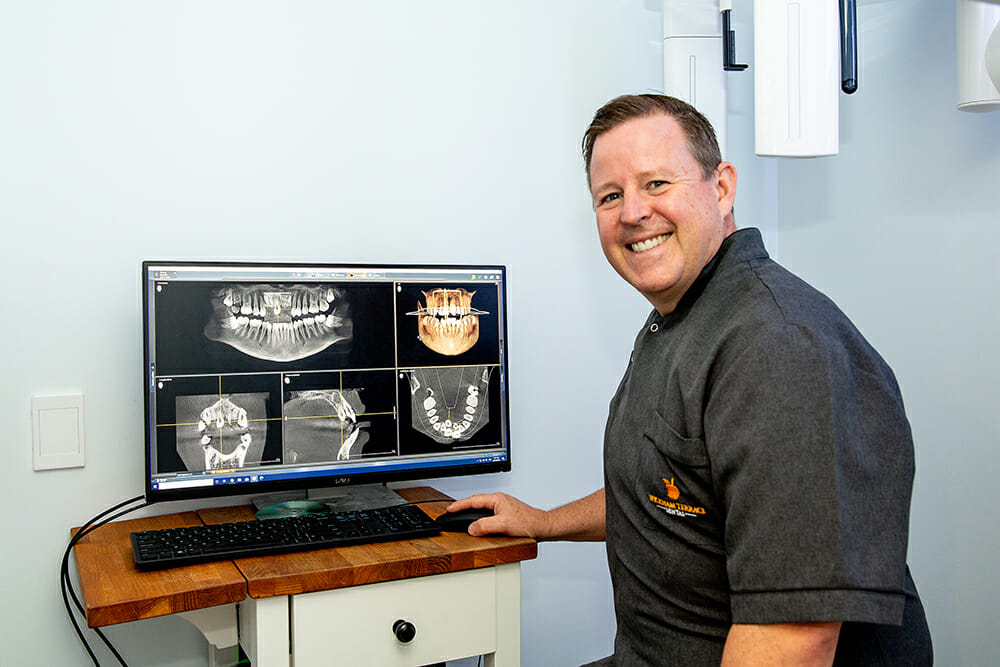 Find out whether a full mouth reconstruction could help you
To see how full mouth reconstruction could work for you, book your consultation with Wickham Terrace Dental today. We'll talk you through your options, including the amount of time your treatment is likely to take, the steps involved, and an indicative cost.
Book your initial full mouth reconstruction consultation with our highly trained Brisbane dentists with the form above, or call us on 07 3831 3031 now. 
Frequently asked questions
What's the difference between a full mouth reconstruction and a smile makeover?
Put simply, the reason for each treatment is different. Where a smile makeover is focused on improving the aesthetic of your teeth and smile, a full mouth reconstruction is more about restoring optimal oral health and function to your teeth.
Is a full mouth restoration the right treatment for me?
This extensive treatment could be ideal if you have multiple problems or complications or concerns, such as teeth that are broken, decayed, cracked, or completely missing. It could also help if you have problems with your gums, bite, temporomandibular joint (TMJ) or jaw muscles.
How long does a full mouth reconstruction take?
Depending on the dental treatments involved, your full mouth reconstruction could take anywhere from a few weeks to a couple of years to complete. We can give you more of an idea after your initial consultation.
How much does a full mouth rehabilitation cost?
Because we completely customise your full mouth rehabilitation treatment to meet your needs, the costs involved will vary depending on the treatments you need, the sedation you choose, and the tooth restorations involved. We'll be happy to provide you with a cost estimate for your treatment plan after your initial consultation with Dr Teakle and the team.
Does health insurance cover full mouth reconstruction?
This depends on the health insurer you're with and the cover they provide. Once you have your custom treatment plan from Wickham Terrace Dental, we recommend you contact your health insurer to project your out-of-pocket expenses.
How long will my full mouth restoration results last?
In many ways, this is up to you! The health of your newly restored smile will depend on how well you take care of your teeth and gums. If you brush twice daily and floss every day, and visit Wickham Terrace Dental every six months for a check-up, you can expect your results to last for a very long time.