Restorative Treatments
Modern dentistry to restore your confidence and oral health
If you're like most people, there may be little – or not so little! – things you'd prefer to change about your smile. So if you ever look in the mirror and notice room for improvement, the friendly Wickham Terrace Dental team can help.
With our modern restorative dental treatments, our goal is to improve not only the look of your smile, but also your overall oral health. Whether your smile is incomplete because of missing teeth, your teeth aren't as white as they once were, or you have minor chips or fractures, we have modern restorative dental techniques that can help.
In our comfortable Brisbane dental practice, we provide high quality:
Even if you feel an issue with your teeth is small, it's far more preferable to have it treated early, than to wait until it's more severe – and more expensive – to treat.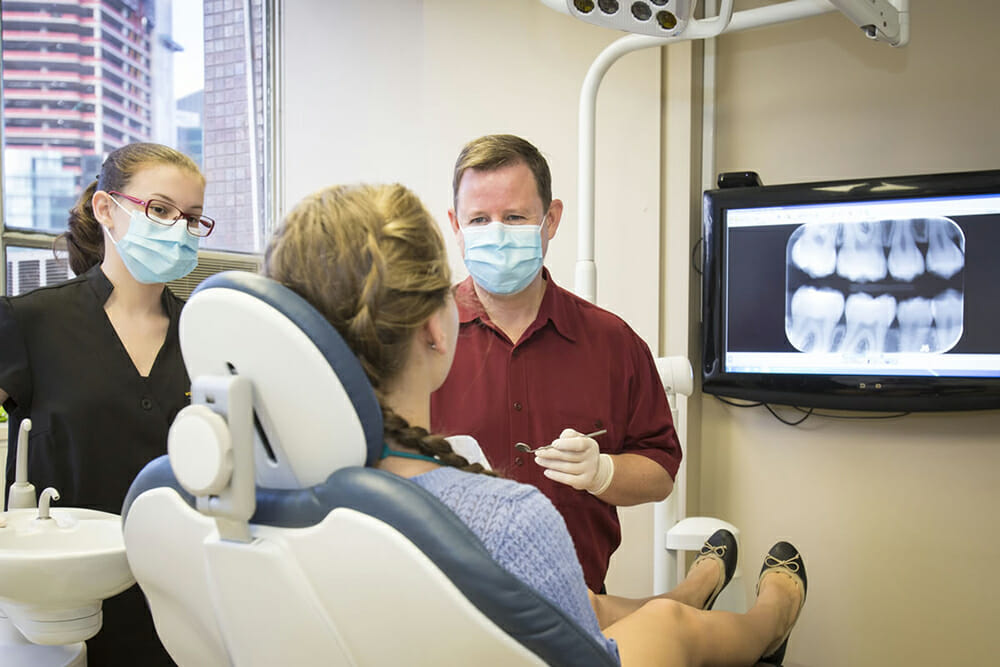 Restore the health and appearance of your smile
If you've been living with missing teeth for some time, it isn't just your smile's appearance that can be affected. The health of your smile can also be impacted, because the space left by missing teeth allows your remaining teeth to move out of their natural alignment.
If left unaddressed, this can cause problems with tooth decay, gum disease, and even loss of bone from your jaw. To avoid these potentially serious issues, we can recommend restorative dentistry options such as dental implants, dental crowns, or bridges.
Speak to the friendly Wickham Terrace Dental team in Brisbane today to discuss your options for restorative dental treatment.
Frequently Asked Questions
What is restorative dentistry?
Just as the name suggests, restorative dental procedures are designed to restore damaged teeth that have been affected by tooth decay, illness, injury, or other problems. In our modern Brisbane dental practice, we utilise the most effective dental treatments to ensure your restored teeth closely resemble your natural teeth.
What are my options for restoring a missing tooth?
Depending on your situation, you may be able to benefit from a dental crown, dental bridge, or dental implants. It's a great idea to make an appointment with Wickham Terrace Dental to find out which option is best for you.
Why is it a good idea to restore missing teeth?
Having restorative dental work not only approves the look of your smile, but can also improve your overall oral health too. That's because gaps left by missing teeth can be ideal places for bacteria to build up, potentially causing cavities or gum disease. And because your remaining teeth are doing the work of their absent friends, they also tend to be under more stress from chewing as well.
Is it true that root canal treatment is painful?
In spite of what you may have heard, most of our patients report that having root canal therapy done is only as uncomfortable as having a filling. Our gentle team will administer local anaesthetic to ensure your comfort during your root canal procedure.
To discover more about the restorative treatments we offer at our dental practice located in the CBD of Brisbane, or arrange an appointment, please contact us.