Porcelain Dental Veneers
If you're unhappy with the look of your smile, dental veneers could be the ideal path to a white, straight, beautiful smile.
Dental porcelain veneers from our Brisbane dentists may be your solution to teeth that are heavily discoloured, worn down, chipped or broken; or a smile that is gappy, misaligned or uneven.
Dental veneers can be simply described as porcelain 'shells', which are incredibly thin yet extremely strong. When bonded to the front of your teeth, dental veneers can restore the colour, size, and shape of your teeth, giving you a beautiful and natural looking smile.
Your porcelain veneers procedure
At your initial consultation in our Brisbane CBD practice, the Wickham Terrace Dental team will discuss your goals for your smile, to confirm whether dental veneers are the right option for you.
In the next stage, we prepare your teeth for veneers by lightly buffing and removing around half a millimetre of their surface. We'll ensure you are completely comfortable with the help of local anaesthetic.
Using our intraoral camera we then take digital scans of your teeth, without the need for old-fashioned impression paste. These digital impressions are then uploaded into our advanced CAD/CAM CEREC machine to form a virtual model of your mouth, allowing us to accurately create the best porcelain veneers possible in our in-house dental laboratory.
Faster dental veneers created on-site
In nearly all cases, we can custom-make your dental porcelain veneers in our on-site Brisbane dental laboratory. This is a great time saver for you, because it means that, after your initial consultation, we can usually create and fit your new dental veneers in just one further appointment! So there's no need for you to have a temporary tooth restoration fitted while you wait for your final veneers to be created elsewhere.
With our computer-controlled CEREC machine we can mill veneers out of solid porcelain, precisely crafting them to ensure a perfect fit for your teeth. Depending on our lab's workload, you may even be able to watch your new porcelain veneers being created!
Bonding your dental veneers
Once your veneers have been precisely created, we place them on your prepared teeth to ensure both you and your dentist are completely happy with the result. At this stage we can trim the veneers and even adjust their colour to create the desired effect.
Your teeth are then cleaned, polished, and slightly roughened to help us achieve the strongest bond possible. The dental veneers are then securely attached with a special cement, and you can once again enjoy an attractive, straight and healthy smile!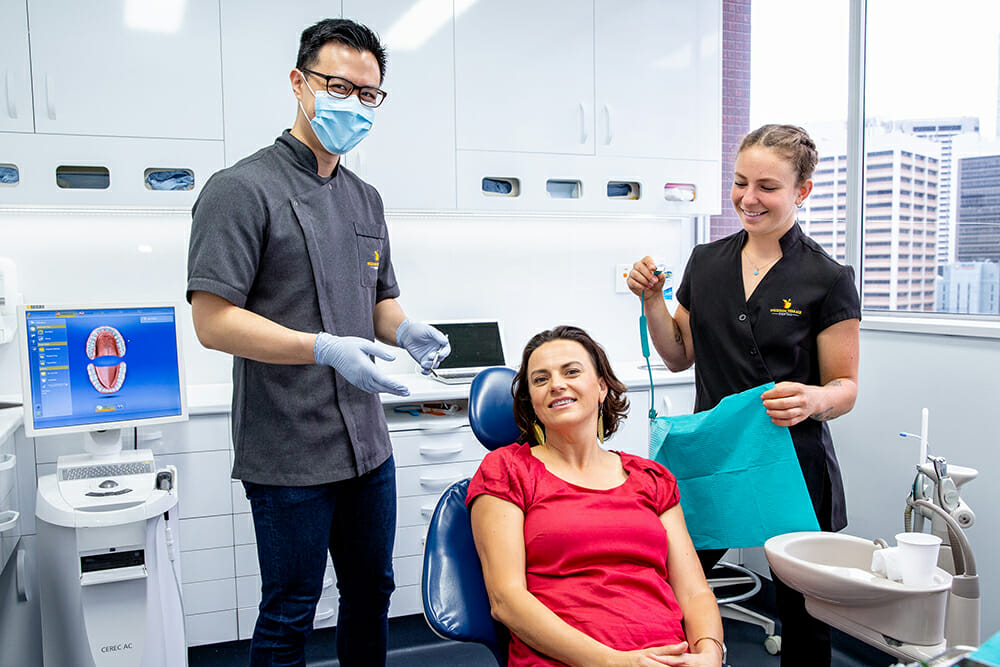 Frequently Asked Questions
How strong are porcelain veneers?
Porcelain veneers are extremely strong and durable, and when bonded to your teeth by the Wickham Terrace Dental team, can last for up to a decade if you take good care of them.
How do I take care of my new porcelain veneers?
You should use common sense when biting with your new porcelain veneers. Try to avoid doing things that can damage your normal tooth enamel, such as chewing on pencils or your fingernails, and avoid biting down directly on hard foods, which is a sure way to damage your new dental veneers.
If you play a contact sport, be sure to wear a custom-fitted mouthguard to protect your veneers from sports injury. And of course, you should look after both your veneers and the teeth they're bonded to with a careful at-home oral hygiene routine, including brushing twice a day and flossing every day.
How are porcelain veneers applied?
We securely bond the thin, tooth-shaped shells to your teeth with dental cement, giving the porcelain veneers incredible strength. We may remove a very thin layer of tooth enamel before placing the veneer, to ensure it doesn't protrude from the rest of your smile.
Are porcelain veneers permanent?
Most of our patients enjoy their dental veneers for between 7 and 20 years, when properly cared for. While of course your actual veneer is artificial, it's still very important to take care of the underlying teeth and your surrounding gums, which are living, changeable tissue. Be sure to maintain an excellent oral hygiene routine at home, and attend regular checkups with Wickham Terrace Dental.
Do porcelain veneers stain?
Porcelain veneers shouldn't stain, so you can enjoy drinking red wine, tea and coffee as normal. Of course, you should supplement your regular at-home maintenance with 6 monthly hygiene visits to Wickham Terrace Dental, to ensure your veneers perform their best.
How much are porcelain veneers?
The cost of dental veneers will depend on many factors, such as whether they can be created in-house (and therefore whether or not you'll need temporary veneers) and of course the number of veneers you need. As a guide, for most of our patients the average cost for veneers is around $950-$2,000 per tooth.
How do I protect my new dental veneers?
It's a good idea to eat softer foods for the first few days, until you become used to your new bite position. After this time, we recommend avoiding chewing on things like ice cubes, hard biscuits, lollies and nuts, and popcorn. It's also very important to stop bad habits such as biting your nails, chewing on straws, opening packages with your teeth, pulling on clothing or anything that will put unusual stress on your new veneers.
To discover more about porcelain veneers, or to arrange an appointment at our Brisbane city dental practice, please contact us.
Any surgical or invasive procedure carries risks. Before proceeding, you should seek a second opinion from an appropriately qualified health practitioner.