Invisalign Brisbane
Achieve a beautiful, straighter smile invisibly
If you're looking for a straighter, more attractive smile, without the need to live with heavy traditional metal braces, Wickham Terrace Dental's friendly Brisbane team have the answer!
Invisalign is an advanced new orthodontic treatment that does away with metal braces, instead using a series of custom-made, amazingly transparent aligners, which straighten your teeth by gradually applying gentle pressure.
Because Invisalign really is practically invisible, it's a discreet way to have your teeth straightened without anyone knowing you're having treatment.
Unlike metal braces, Invisalign's sleek thermoplastic aligners are less likely to trap food debris next to your teeth. And with Invisalign's removable aligners, it's easy to brush and floss your teeth as normal, and enjoy food and drinks as usual.
Thanks to Invisalign, you could enjoy a straighter, more attractive smile without braces!
Choose Wickham Terrace Dental for Invisalign in Brisbane
We're certified Invisalign Brisbane providers
Our prices start from just $3,999 for Invisalign Express
Choose to pay with interest free payment plans
Enjoy our friendly, professional service
Take advantage of our handy Brisbane CBD location
How we improve your smile with Invisalign
We begin your Invisalign treatment with an individual consultation in our modern Brisbane CBD dental practice. The Wickham Terrace Dental team will gain a full understanding of your goals for your smile, and advise whether Invisalign is the ideal orthodontic treatment for your needs.
We'll then take computerised images of your teeth, to create a detailed 3D model of your whole mouth. Your dentist then painstakingly analyses this image to determine the precise teeth movements needed to create your ideal bite. We use this information to custom create your series of Invisalign aligners.
You wear each set of custom-made Invisalign aligners for around two weeks. Each new aligner gently moves your teeth a little closer to their ideal position, before being swapped for the next in the series. Over the course of your treatment, Invisalign works to help your teeth reach their ideal position, so you can enjoy a straighter, more attractive smile.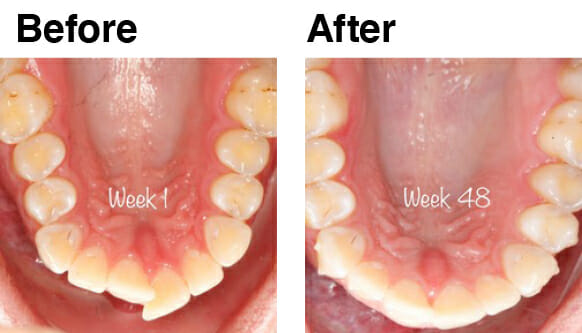 The different types of Invisalign available to you
Invisalign Express Package
The Express Package provides up to 7 aligners per arch, and 1 automated refinement within 1 year.
It may be ideal for you if you have very minor crowding or spacing, a minor orthodontic relapse, you need a partial treatment, or you're looking for an aesthetic improvement to your smile.
Invisalign Lite Package
The Lite Package gives you up to 14 aligners per arch, and up to 2 automated refinements within 2 years.
This package could suit if you have minor crowding or spacing, a minor orthodontic relapse, you need a partial or combination treatment, a simple correction, or you're looking for an aesthetic improvement to your smile.
It's also great if you need the position of your teeth adjusted and straightened before having cosmetic work such as veneers, crowns, or bridges.
Invisalign Moderate Package
The Moderate Package offers you up to 26 aligners per arch, with unlimited refinements within 2 years.
It's an ideal treatment option for moderate to severe crowding, without underlying skeletal changes or significant rotations of teeth needed.
Invisalign Comprehensive Package
Lastly, Invisalign's Comprehensive Package gives you as many aligners as you need to achieve your ideal bite position, with unlimited refinements available within 5 years.
It's the total treatment package that has broad applicability, including for comprehensive orthodontic treatments.
Frequently Asked Questions
What are the benefits of Invisalign?
Invisalign is practically invisible
You can achieve a straighter, more beautiful smile without anyone knowing you're having orthodontic treatment.
Because you can easily take out your aligners, you won't have any issues with eating and drinking – and you can brush and floss your teeth as normal.
Invisalign is comfortable
With no sharp metal brackets or wires, Invisalign's medical-grade plastic aligners are comfortable to wear, and won't irritate your mouth and gums.
Invisalign lets you virtually "see" the end result
With Invisalign you can view your virtual results and treatment plan before you even begin treatment. We know you'll enjoy seeing how straight your teeth will look when your treatment is complete!
How does Invisalign work to straighten teeth?
Thanks to the way Invisalign uses a series of different aligners that are precisely made for your needs, it's a more efficient, more consistent way to straighten your teeth. Each aligner applies gentle yet consistent force to move your teeth a step closer to their eventual position. By regularly swapping out your aligners, the Wickham Terrace Dental Brisbane team can apply the exact amount of pressure needed, at just the right time, to create the ideal result.
What does Invisalign look like?
Made from strong, medical grade thermoplastic, the aligners for your Invisalign treatment truly are practically invisible. Resembling a transparent sports mouthguard, your series of aligners are custom made specifically for your needs, to ensure they exactly fit your treatment plan.
How long does Invisalign treatment take?
Naturally your Invisalign treatment time will depend on your individual situation; but in general you'll be enjoying straighter teeth from a complete treatment plan in just 28 weeks.
Is Invisalign treatment uncomfortable?
While you may feel minor discomfort in the early stages of straightening your teeth with Invisalign, it's important to remember that this is a good sign. It means that your teeth are responding to the gentle pressure of the aligners, and beginning to move into their desired final position. You can relax though – most of our patients feel that Invisalign is a far more comfortable treatment than traditional braces.
Will Invisalign affect the way I speak?
Just like with traditional orthodontics, you may take a couple of days to a week to get used to having something new in your mouth. After this period of adjustment, you shouldn't have any problems with Invisalign affecting your speech.
To find out more about Invisalign, or to arrange an appointment at our Brisbane city dental practice, please contact us.